Emanpack can provide you with a complete set of tilters, including mechanical coil tilters and hydraulic coil tilters, which can tilt the steel coil from the vertical position of the eye to the horizontal position, and vice versa.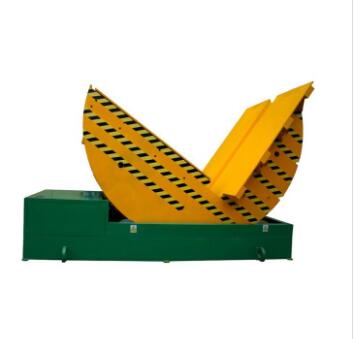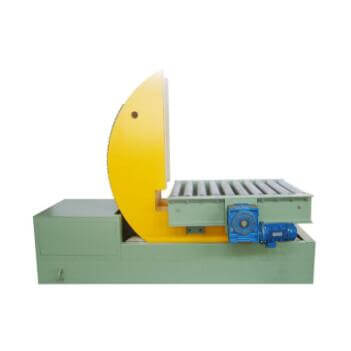 FZ series mechanical tilters are mainly used to safely tilt or flip weights of different specifications like steel coils, aluminum coils, wire coils, copper coils, molds, spools, etc by 90 degrees through mechanical drive from the horizontal direction. The machine is equipped with a conveyor to connect with the production line to improve production efficiency and facilitate loading. It is widely used in metallurgy, stamping, metal plates, molds, papermaking, steel strips, coils, barrels and other industries.
Machine features:
The frame is composed of heavy structure and steel plate.
The motor driven by the frequency converter can realize segmental speed control and make the tilter stop smoothly.
Reasonable four-roller object fixing device makes the tuning stable and stable.
The industrial reducer makes the transmission power of the machine safer and more stable.
Special double-chain transmission, helical gear and worm reducer.
It can be reversed to reset and work in cycles.
The machine can be stopped at any angle when rotating.
Emergency stop and position lock function can avoid rotation.
The machine can be equipped with a conveyor belt or a movable V-shaped worktable according to different requirements.
Operation reference:
1. Check whether the external power supply and grounding wire are reliable.
2. Turn on the power supply and the emergency stop button, the power indicator light will light up.
3. Reset the machine to its original state.
4. After completing all the above steps, you can execute the next working procedure.
5. Use a sling or forklift to place the coil in the center of the platform. This step must be performed carefully so as not to injure people or collide with the machine.
6. Switch to the "TURN" position, the tilter starts to rotate, and automatically stops after the rotation is completed.
7. Use a sling or other methods to smoothly remove the object from the machine. This operation should be done carefully to avoid injury or collision of objects with the machine.
8. After the object is safely removed from the machine, switch the button to "RESTORE" to reset the machine and prepare for the next operation.
Coil tilter with conveyor automatic turning machine