As we have be dedicated working in the industry of pallet handling equipment, there are many users who want a pallet changer which is more secured and promised for the safety during operation and make the pallet exchanging and handling process easier. We have designed this new model aimed to solve the needs of these users.
The new machine is different from the 180 degree pallet inverter machine and normal type of 90 degree pallet changer machine. It's special to have the side pressing system. This new side pressing system is targeted to protect the pallet load, the cargo during the turnover process. Prevent the possible falling and scattering. It's practical for the application of pallet exchanging of products like bottled water, beverage…… especially the beer or mike which are filled inside the glass bottles.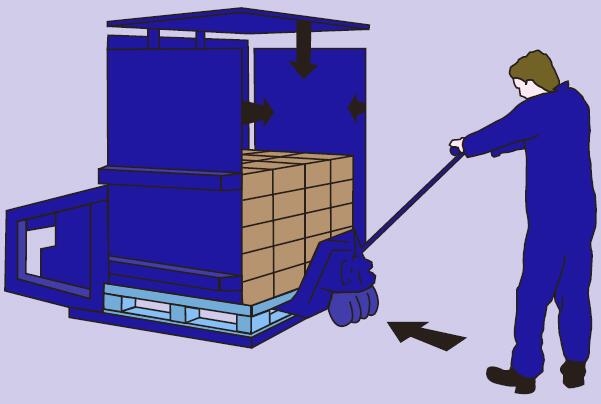 The first machine produced has already been successfully tested in an important logistics center in northern Italy, passing all tests as it handled the most difficult products, which until now could only be handled by hand.
These products are stacked in high piles and loaded on pallets. They are fragile and not easy to operate by machines. But it's very slow to do the operation if by workers, and the pallets are usually need to be exchanged from expensive plastic sanitary pallets to cheap wooden shipping pallets. So this new model is able to improve the capacity and speed of finishing the work while promise the safety of the operation.
Two platen extended and inserted between the base of the product and the pallet providing a solid base that also allows you to lift very heavy loads.
The pallet changer to enhance your pallet handling capacity