How to package fragile industrial products?
Do you know what is needed to pack fragile industrial products? At Emanpack, we have all the packaging solutions that your company needs to meet the needs of today's market.
We provide you with the latest and most efficient automatic packaging machinery for large and medium-sized wood products and furniture, so as to ensure the satisfaction of you and your customers. In this article, we will show you all the information you need to know about how to package fragile industrial products.
First of all, buying the most suitable packaging material for your products is very important:
Air bubble film and stretch wrap is the most suitable packaging material to combine for the cold packaging, it can allow you to have the best protection for each item and use the lowest energy and have a guarantee for the cost effectiveness.
Kraft paper is a kind of strong paper material than the traditional paper. This paper material is produced by the wood fiber processed with special methods. And this material is very environmental, 100% renewable and biodegradable and it's use is growing very fast in today's packaging industry.
Shrink film can giving the highest packaging quality, making the most tight package for the goods and very good protection. The shrinkable folding film is especially suitable for packing products with the same size in large quantity. This way of packaging is very low in cost and has the very high performance comparing with other types of heat contractable film packaging. And this package is also a high quality package for products that require good exterior.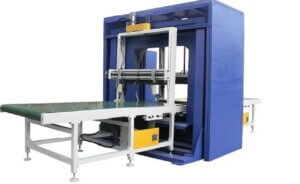 It's also named as the horizontal orbital wrapping machine. With this machine, we can use the stretch film to get an environmentally friendly packaging which is suitable for variant products and different sizes on the same production line. It's applicable for cabinets, doors, aluminum profiles and different types of pipes with very efficient and economical packaging methods using the lowest energy.
For heat packaging fragile industrial products, if you want to get the most efficient and effective solution in thermal packaging machinery, we would like to introduce this horizontal stretch wrapping machine for you as your best packing solution.
What's the way of packaging for fragile products?