The packaging line is mainly composed of a coil transverser (coil cart) and tilting system, a coil weighing system, a coil strapping machine, a coil packaging machine, a coil stacking system, and a conveyor storage station. The production line is controlled by a general control panel in total, and each unit can be individually controlled manually.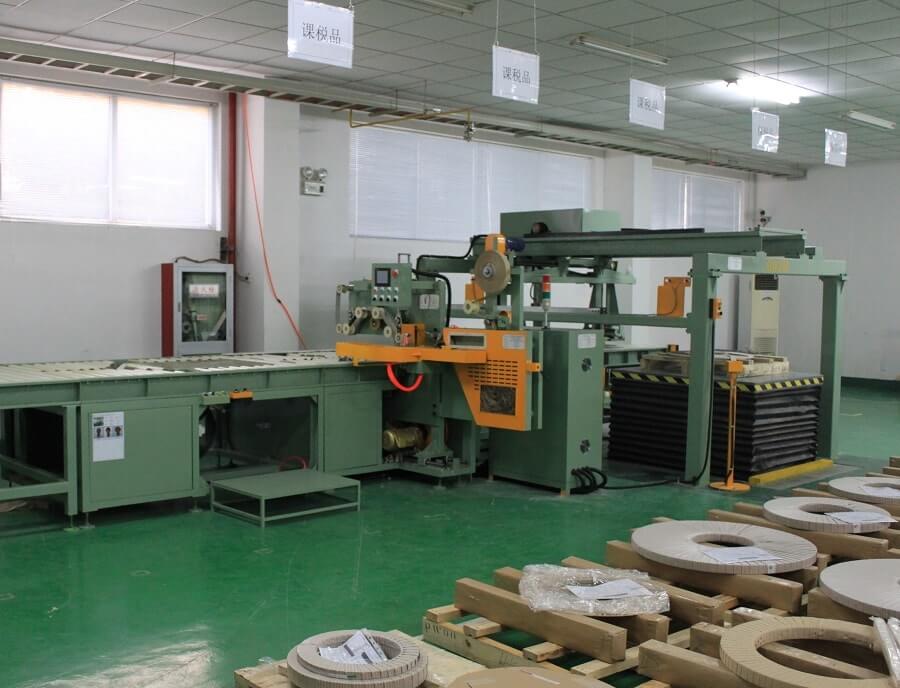 Detailed description of main parts
1. Coiling and tilting system
The system is specially designed for connecting with turnstile, Composed of tilter, flexible grab arm, precise moving track, etc.
Automatically separate the coils on the rotating grid, Smooth surface treatment of the picking arms.
Hydraulic drive lift nose. Conveying speed: 10-30 m/min, adjustable by frequency converter.
The coil grabbing arm is flexible, can move back and forth, lift, and is controlled by an encoder.
2. Net weight system
The system is used for the net weight of steel coils; Weight accuracy: 1/3000;
Using METTLER TOLEDO load cell; Equipped with weight scale, with RS232 interface;
The calibration of the scale is done jointly by the buyer and the seller, and the buyer provides standard weights.
3. PP strapping machine
The automatic winding machine is an automatic winding machine that uses PP tape to bind the winding eye. The lifting structure allows the steel coils to be rotated multiple times for binding.
Safe and stable, will not damage the coil. Support rollers and conveyor rollers are covered by polyurethane.
The belt crawler is threaded up and down, which can be tied when closed, and can be rolled in and out when open. Bundling passes through the center of the coil. The tension of PP belt can be adjusted.
PLC control and HMI operation. When a failure occurs, the indicator light will automatically alarm.
The support roller lifts the coil from the conveyor for packaging. The overlap rate of the packaging tape can be adjusted within the range of 20%-90% by the converter.
The tension of the packaging belt can be adjusted. Ring speed and roller speed can be adjusted by frequency converter.
The manipulator automatically feeds the packaging belt. The support roller is covered with polyurethane.
Soft stop and soft start. The friction between the ring and the wheel is adjustable.
5. Stacking system
It is a stacking equipment used to process the coils one by one from the conveyor to the pallet. Mechanical stacking unit:
This is a special stacking system that can stack the coils one by one. Equipment with lifting platform.
Wood blocks are needed between the coils. The exact location of the coil stack.
6. Coil center positioning device
It is used to position the coil that makes the coil into a coil in the center of the conveyor, which is a necessary process to continue bundling and packaging.
The structure of the system is push-out, which can center the coil laterally. Safe and stable, will not damage the coil.
7. Conveyor stacking station
It is a conveyor storage station for storing and unloading stacked pallets.

Automatic copper coil packing line