Master coil wrapping machine is also has the name of host winding machine, which is a giant machine used for packing large coils and rolls of steel, aluminum, copper, 7 wire PC strand….metal products. It's a turnkey solution for the packaging of deep reels with powerful capacity. Make the package waterproof, rust-proof and dust-proof, get good protection and decoration.
This is a highly automated, highly integrated, safe and practical packaging machine. The machine is mainly composed of packaging unit, moving track, two (or more) roller stations, control cabinet, guardrail and so on.
Our updated master coil packaging machine can adapt to customer needs from simple to highly complex configurations. Emanpack can provide various options according to your specific needs and according to the most diverse requirements.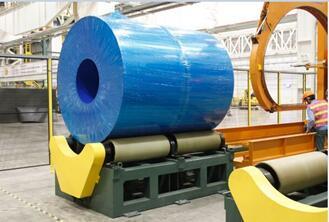 The main features of this machine:
Adapt to long-term continuous work, long service life.
Modular design, simple and reliable operation to make your work easy.
The tension of the packaging material is easy to adjust.
Use PLC&HMI interface screen operation to realize intelligent operation.
Specially designed track package type.
The roller station is convenient for loading and unloading. The roller is covered with PU to protect the surface of the coil.
Manual and automatic working modes are available for selection.
Use a converter to adjust the overlap of packaging materials.
The overlap ratio of the envelope is adjustable.
The packaging position reset function.
Automatic cart positioning sensor.
 In one process, a double shuttle with two film trays can be used to pack two different materials.
Equipped with a manipulator, which can automatically feed and cut the packaging tape.
The protective fence can ensure the safety of the operator.
The level of the packaging unit can be adjusted by a motor.
When an error occurs, the indicator light will automatically alarm. Troubles can be displayed automatically.
The special brake of the tape release device to avoid material folding.
Additional roller stations are optional to achieve higher packaging efficiency.
Operating procedures:
Use crane, C-hook, forklift or walking beam, coil car, etc. to load the coil onto the rolling station of the machine.
The packaging machine is moved to the roller station. The wrapper positions itself. Adjust the height of the U-shaped wire to adapt to different winding diameters, so that the packaging material can pass the bobbin over the bobbin.
The U-shaped track is closed.
Use manual or automatic manipulator (optional) to fix the packaging material on the coil.
Press start button, Start packaging.
Use manual/automatic manipulator (optional) to complete and seal the package.
The packaging paper is moved to another press roller station for the next packaging (optional).
Unload the packaged coil and prepare another new package.
The master coil wrapping machine for packing deep reels of steel coil and rolls