The copper strip coil wrapping packing machine, for thickness can be up to 50mm. The tensile strength: ≥315;Elongation: ≥30 Heat treatment temperature from 650 ~ 850℃;And the annealing temperature 600 ~ 700℃;The low temperature annealing temperature for eliminating internal stress is 270 ~ 300℃.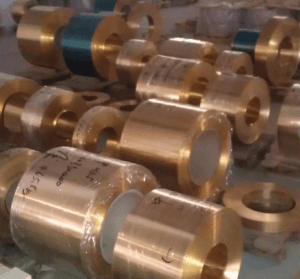 Red copper plate belt has good mechanical properties, plastic is good in the hot state, plastic is acceptable in the cold state, but also has good cutting energy.Only need a simple fiber welding and welding procedures, the material corrosion resistance, but easy to produce surface corrosion cracking phenomenon, because the price is cheap, as a common copper varieties are widely used.
Brass copper belt product is a widely used lead brass in the market, but also has good mechanical properties, and strong processability, but also can withstand cold and hot pressure processing. Copper roll or steel wire coil packaging can all be wrapped packing on this machine. Commonly used for cutting and stamping various structural parts such as gaskets, bushings, etc. Brass strips have ultra-high corrosion resistance and can be used on ships as corrosion resistant parts and components and pipes for steam, oil and other places in contact.
Master wrapping packaging system for copper coil steel wire roll coil in big large size