The steel wire coiling wrapping machine can automatically pack a variety of different objects, including steel wire, galvanized wire, stainless steel wire, copper wire, strapping wire and other types of wire, which will help modern industry greatly improve packaging efficiency and Save labor costs.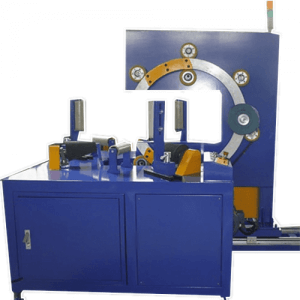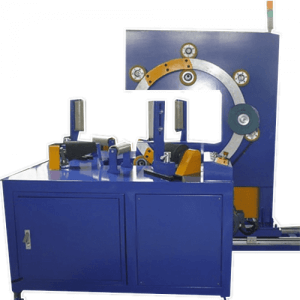 The copper wire coil wrapping machine can be used to pack copper wire coils of different specifications, so that the copper wire is well protected and sealed, and it looks more tidy for sales and transportation. In addition, it can also be used to wrap any other round objects, such as steel wire coils, tube coils, steel coils, tires, bearings, etc. Today, it has become the best packaging choice for modern enterprises to improve their competitiveness.
Basic feature of the wire coil wrapping machine:
1. Using PLC for automatic packaging control.
2. Choose different vertical or horizontal structures for different objects or according to special requirements.
3. Automatic or semi-automatic control mode of steel wire coiling machine.
4. The two modes of tape packaging structure can be used to use different packaging materials.
5. The friction wheel and ring adopt a one-piece mold structure and use anti-wear polyurethane coating.
6. The mainboard and ring height can be adjusted for different object ID and OD.
7. It can be wrapped simultaneously (two kinds of packaging materials are used together).
8. Available packaging materials: woven tape, stretch film, non-woven fabric, plastic tape, composite paper tape, linen tape, etc.
9. A special tension control system is adopted; the overlap rate and material tension can be adjusted as required.
10. The supporting roller and the protective roller can be wrapped with rubber as required.
Steel wire and copper wire coiling and wrapping machine