The rigid phenolic insulation panels has very good properties of thermal insulation as the phenolic foam has very low thermal conductivity, which is compared to the rigid polyurethane and extruded polystyrene. Compare to other insulation materials, the phenolic foam panel is more effective about 50%. The material has significance for saving space as it's low thermal conductivity which makes the insulation thicker as the specified thermal performance to be achieved.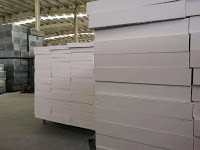 So the phenolic insulation is going to be the main material used in construction for insulation and it's the most widely used material. For the package of phenolic insulation panels and boards, Emanpack has various packing solutions for phenolic insulation.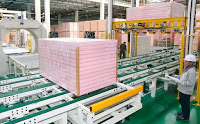 First is the sealing machine, which can wrap the bundle of phenolic insulation tight and seal from one side, the tight package is not easy to loose. The second solution is the thermo shrink wrapping machine which can fully sealed and shrink the package to tight. The third packing solution for the phenolic insulation boards is the orbital stretch wrapping machine. The machine is able to wrap the bundle of phenolic boards with stretch film to a very tight package of bundle.
Phenolic insulation panel and board packing solutions